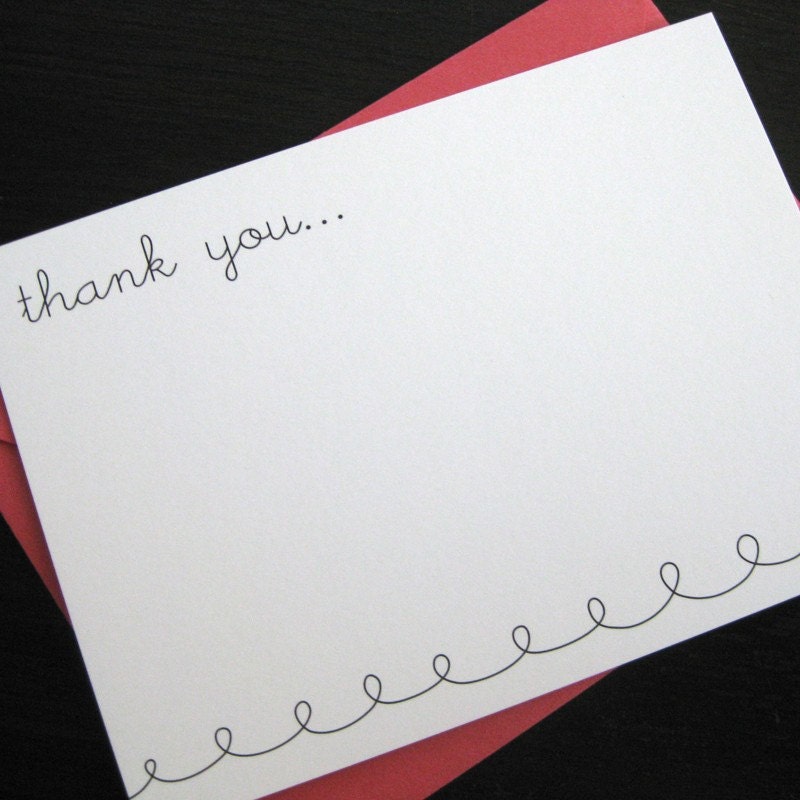 "thank you curls" by in a card on Etsy
you all know how strongly i feel about saying thank you.  to me, a thank you, both verbal and written, given and taken, is one of life's necessities.
a quote by Wallace D. Wattles:
"It is necessary, then, to cultivate the habit of being grateful for every good thing that comes to you, and to give thanks continuously.  And because all things have contributed to your advancement, you should include all things in your gratitude."
here is a bit of info on sending out "a meaningful thanks" with some great do's and don'ts for saying thank you via Envelopes.com blog.
Handwritten Thank You Notes are Still the Way to Go
While email has become the primary mode for a good deal of communication these days, etiquette experts, executives, and human resource professionals agree that a handwritten note is still the best way to say "thank you." A more personal touch really does make a difference — so we thought we'd take a look at the do's and don'ts of saying thanks.
General Tips:
Write your note promptly.
Include the date.
Be sincere.
Keep it brief.
Write legibly – yes, neatness counts!
Use terms and expressions that are natural for you.
Notes can be written on informal stationery, except for wedding thank yous that are typically sent on formal stationery.
Business notes may also be handwritten (or as an alternative, typed on personal stationery.)

Gift Thank Yous:
Be gracious and appreciative.
Personalize your note and make reference to the person as well as their gift.
Don't indicate any dissatisfaction – i.e., that you plan to return or exchange the gift.
If a monetary gift, you can refer to how you will make use of the funds (mentioning the amount is optional.)
Promptly acknowledge receiving a gift that has been shipped to you; send your note within a few days (or call or e-mail the sender and follow up swiftly with a note thereafter.)
Don't include photographs or send photo cards if this will delay sending your thank yous out promptly.
Etiquette for wedding gift thank yous calls for notes to be sent within 3 months of receipt a gift.
Lateness is not an excuse! If you haven't sent thank you notes as your first anniversary nears, still do so.
Don't forget, gifts should be acknowledged with the same courtesy and generous nature in which they were given.

Business Thank Yous:
While not required, it's smart protocol to send a thank you after a job interview. (Food for thought: A survey by CareerBuilder.com showed that nearly 15% of hiring managers would reject a job candidate who neglected to send a thank you note post-interview while 32% said they'd still consider a prospect who did not send a thank you, but that their opinion of him/her would diminish.)
It's good manners to express thanks after a business lunch, dinner, party or gala.
Definitely reach out and thank a coworker, mentor or other business acquaintance that gave you his/her time or advice.
Thank business contacts for referrals or reference letters.
If a coworker or colleague has given you a gift, it's always appropriate to thank them.

In business scenarios, sending a polite note regardless whether you think its absolutely necessary never hurts. It's also perfectly fine to keep it brief and to the point. Naturally the language and formality will vary from a post-interview thank you to a potential employer to thanking a close colleague who gave you a gift, so pen your notes accordingly.
Finally, always remember to say it with style! Color, texture, formality or informality of the paper stock you select should also be considered as part of your message and personal image.