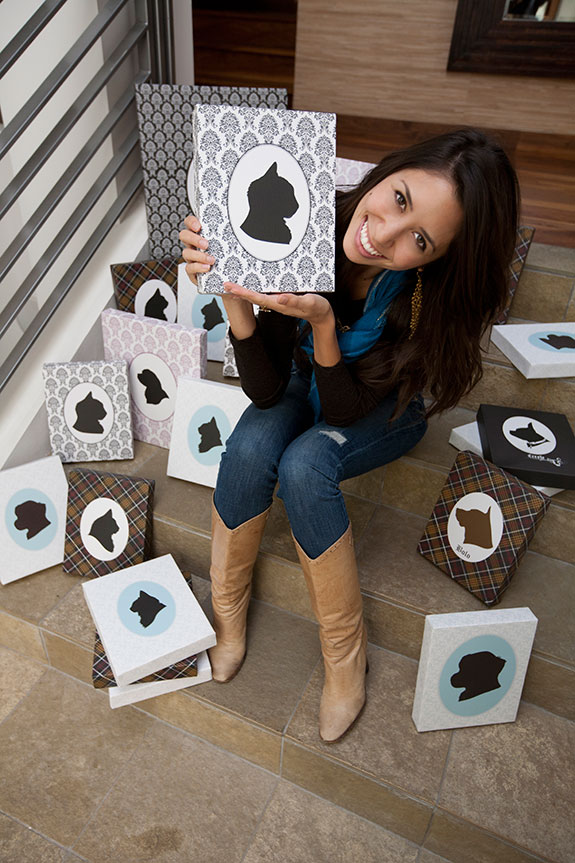 *image courtesy of silhouPETte
jessica, from SilhouPETte, creates these original and very special pieces of artwork of your pet's silhouette with a vintage feel.  you can read more about her story and process here.  if you or someone you know is a pet lover, you'll enjoy the time and attention she puts into each piece, leaving you with a silhouette image of your pet that you will cherish forever.
jessica contacted me about a packaging idea for her SilhouePETte jewelry line.  she pretty much knew what she wanted, the problem was she didn't quite know where to go and also didn't quite have the time to do the product research herself.  so here is where i come in.  🙂  jessica wanted to imprint her logo onto little jewelry pouches and have it all fit into a little box.  although this method of printing was a first for me, i knew that i'd be able to help jessica achieve the look and feel she was after.
after researching the product and printing methods, the final piece ended up being a soft beige drawstring pouch with her logo printed in gold foil.  each pouch will be packaged nicely in a brown kraft box, ready for gift giving.
make sure to check out silhouPETte.com to learn more about jessica and all the wonderful gifts & accessories she has to offer.  (great gift ideas for the holidays!)